Funny how these little cars get under your skin isn't it? Having seen Mike's lovely low mileage car here before Christmas I thought I'd arrange to go and see it. Well, it was quite local, so just an excuse for a nice drive really.
Of course it drove beautifully, nice tight gear change, smooth clutch and brakes and other than a typical tap from the bonnet edge, no rattles. The ride on the 15" wheels that the original owner bought from his Audi dealership (at vast expense ?? ) wasn't unbearable like it is on a Sport running 17's, it trundled along like a good tdi should and the interior was in excellent condition. And with it came a thick wad of invoices and stamps that demonstrated it had been properly looked after (by Mike's late father) during its whole life, while the condition of rubber, plastics and headlights spoke of a life stored in a garage.
While it might seem expensive for a 20 year old VAG hatchback, good examples of A2s still drive just as well as modern stuff at 10x the price, and have an appeal that goes well beyond that of cheap transport.
I waited a bit before making an offer (just for form's sake really), but we were able to agree a price that took into account one or two niggles, and Mike dropped the car off to me this week.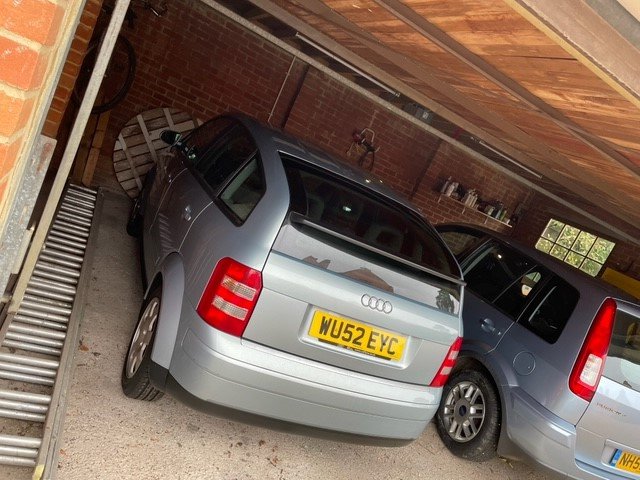 No plans for it really, I'll attend to the niggles over time and get the cambelt done for peace of mind, but really my intention is to keep it in the garage for best while I smoke around in the tdi 90.
Charlie
PS The Mighty Fusion garage mate is a bit similar; in this case my mother's old car with only 60k miles and a load of invoices, but wayyyyyyy less £££